Ensure a High Score on Your ATP Written—and get the job!

Accepted for FAA WINGS Credit
During your pilot job interviews, your ATP written test results will be used to evaluate you, and any topics you miss on the written will generate interview questions. Most ATP test preps out there just cram the question answers and give you test taking "techniques". The problem is that it's not enough to just cram your way to a passing score, you need to score high—and fully understand the material. With KING you can do both.
Don't Just Pass—understand!
Our Video Ground School will ensure you understand every topic on your written by simplifying, clarifying and making it fun to learn the material. The Interactive Test Prep will polish your test taking skills with practice quizzes and tests that exploit our giant test bank of ATP questions accumulated over our 40 years of preparing folks for this pinnacle of FAA tests. This is no time to settle for inferior preparation. Learn with KING, ace your test—and get the job!
Here's What You Get...
ATP - Multiengine Video Ground School Course
ATP - Multiengine Interactive Test Prep
FAA-style test questions with detailed step-by-step explanations
Unlimited random practice tests
Personalized graduation certificate, suitable for framing
FREE iPad & iPhone companion app with online course
FREE online FAR/AIM and PTS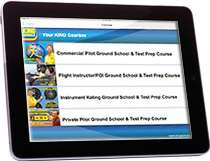 NEW! Includes a free iPad and iPhone King Schools Companion app that connects to your King Schools Online Video Courses (not available with disc courses), and allows you to download course videos so that they can be watched at any time, with or without an Internet connection. For complete information search "King Schools Companion" in the App Store.
Breeze Through the Complex Regulations and Flight Planning Problems Like a Pro
It's true, comprehensive knowledge is vital when you're planning to become an ATP. That's why you'll want to get your "Doctorate in Flying" with the course designed to put you at the head of the class. Your KING ATP - Multiengine Ground School & Test Prep Course covers complicated performance charts, regulations, high-altitude weather, IFR procedures, operational factors, FARs, Weight & Balance ... the works.
Interactive Test Prep—the icing on the cake!
KING's ATP Interactive Test Prep, included with your course, allows unlimited random practice tests, and lets you systematically review and focus on the areas that need extra attention. You can study groups of questions, or every question—topic by topic, or in whatever order you choose—until you're confident you're ready to ace your exam. Coupled with the video presentation, your ATP test prep will guarantee your success. The result? Solid facts, complex concepts simplified, and material that stays with you long after you've passed your FAA ATP Written Exam.